A new Condence installation, first of its kind in Poland, was done to an industrial water treatment plant operated by Veolia Industry Polska – a leading industry service provider in Poland and globally.
Mechanical installation and configuration were done by Condence partner in Poland, Axoma Spółka z o.o., with the remote support of Distence personnel. Avoiding any need for travel between countries.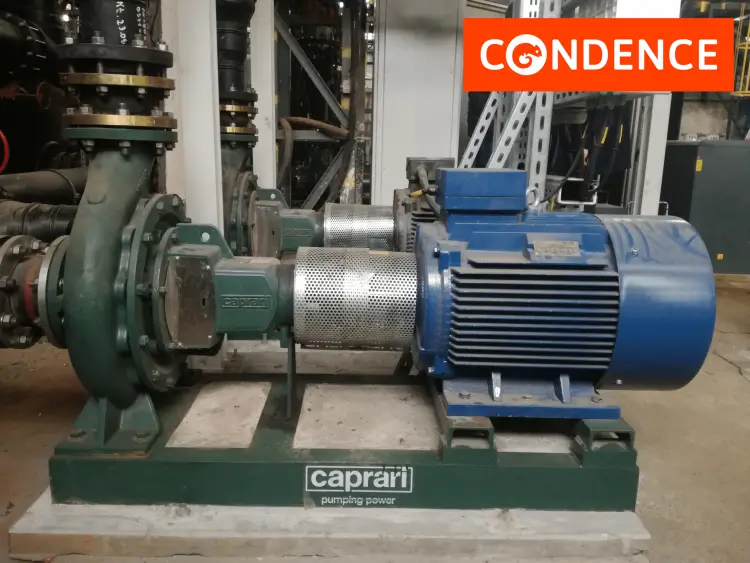 The setup consists of one Condence T210 terminal equipped with eight piezoelectric-accelerometers for vibration measurement as well as two optical sensors for speed measurement. At a later date, signals from two pressure sensors are planned to be included in the setup for additional analyses.
The monitored installation is a pair of pumps supplying almost 200 m3 of water per hour to the process. Both the motor and the pump are monitored with two sensors per component for a total of eight sensors. Acceleration data from these sensors is used to generate a collection of analyses which are presented as trends in the Condence cloud platform.
In total, there are almost a hundred metrics calculated automatically and reported in the cloud system. Analyses comprise from, for example, overall levels, bearing fault frequencies and multiples of running speed. In addition to the computed metrics, raw time-domain samples are also sent to the cloud at scheduled intervals. Time-domain samples can be manually analysed if needed at a later date.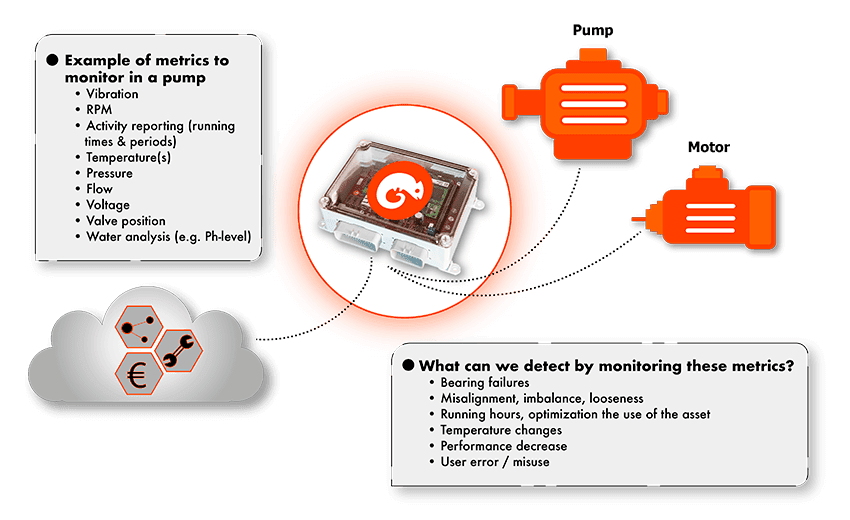 Piotr Ziółkowski, Head of Research and Development at Axoma, had this to say about the installation:
"The installation was quick and easy. You mount the terminal somewhere near the machine, mount the sensors, connect the prefabricated cable set, and turn the device on. The terminal connects to the Internet, and it starts monitoring."
Veolia Industry Polska appreciated the fact that installation could be done without stopping the process which saved them from a lot of additional hassle. Another advantage is that mounting the sensors was possible without intervention in the machines' construction, which allowed them to keep the warranty valid.
Mr Ziółkowski continues:
"Condition monitoring of the machines, malfunction of which may halt the entire process, helps maintenance technicians react to early symptoms of upcoming defects and avoid costly downtime. Having online measurements saves much time, and prevents missing important events which allow technicians to focus on other important tasks rather than inspecting the machines."
If you would like to know more about how your plant could be the next location where Condence is taken into use, please contact either us directly, Axoma in Poland or any of our other partners.
Veolia group is the global leader in optimized resource management. With nearly 179,000 employees worldwide, the Group designs and provides water, waste and energy management solutions which contribute to the sustainable development of communities and industries. Through its three complementary business activities, Veolia helps to develop access to resources, preserve available resources, and to replenish them.
In 2019, the Veolia group supplied 98 million people with drinking water and 67 million people with wastewater service, produced nearly 45 million megawatt hours of energy and treated 50 million metric tons of waste. Veolia Environnement (listed on Paris Euronext: VIE) recorded consolidated revenue of €27.189 billion in 2019. www.veolia.com
Veolia in Poland has been a reliable partner of cities and industry throughout the country for over 20 years. Based on knowledge and experience, it offers innovative services tailored to the needs of Customers. Veolia Industry Poland provides comprehensive energy and multi-technical services for industry, office, commercial and logistic facilities. The company provides the clients with innovative solutions in heating, cooling, electric energy and water and wastewater management.Following the policy of sustainable development of the Group, the company offers and implements solutions that are energy-efficient and optimal for the environment and local communities. The company manages 3 M sq. m of surface area and numerous media supply installations throughout Poland. www.veolia.pl